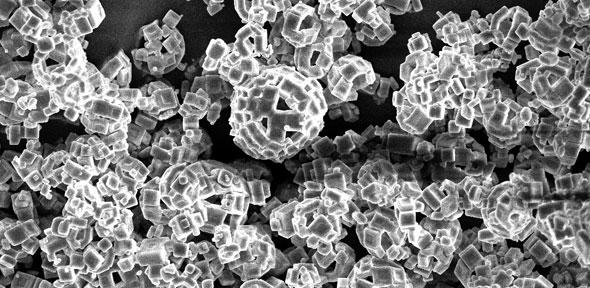 "These baskets are just ordinary salt, dried from droplets of salt water. As the perfectly spherical water droplets dry out, the salt crystallises quickly from the outside, each crystal straining against the rest of the structure and breaking up the spheres.
This image was taken on a scanning electron microscope, enabling us to look far beyond the ordinary micron sized world. In it you can see sort of spherical cages made of cuboid blocks. The incompatibility of the crystalline cuboids with the sphere are ripping the cages apart, there's no chance of making this cubic structure form good true spheres.
To me this is an expression of the power of the nanoscale where we are confronted with the limits of our capacity to change materials. We can come up with new ways to manipulate and weave unnatural baskets, but it's the scale at which we find out the true nature of the atoms that form the materials which form us and the rest of our world."
This image was taken while Rox Middleton was doing a summer placement with Dr Alex Finnemore in the Thin Films & Interfaces group in the Cavendish Laboratory, University of Cambridge, using a scanning electron microscope in the University's Nanoscience Centre. Rox is currently a student on the Nanoscience and Technology Doctoral Training Centre (NanoDTC) PhD programme.
'Nanomaterials Up Close' is a special series linked to our 'Under the Microscope' collection of videos produced by Cambridge University that show glimpses of the natural and man-made world in stunning close-up.
This electron microscope picture, reminiscent of man-made baskets or children's blocks, shows cubic salt crystals that have been forced to form in spheres, as Rox Middleton explains.
To me this is an expression of the power of the nanoscale
The text in this work is licensed under a Creative Commons Licence. If you use this content on your site please link back to this page. For image rights, please see the credits associated with each individual image.